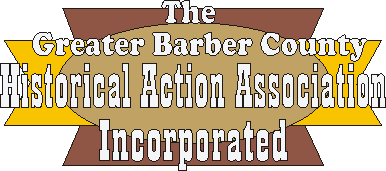 Welcome to the official website for the
Greater Barber County Historical Action Association, Inc.,
And
The Barber County Heritage Center.
1056 SE Isabel Road
(Corner of Hwy. 160 & Isabel Road)
Medicine Lodge, KS 67104
Mailing Address:
P.O. Box 46
Sharon, KS 67138
Officers:
President - Steve Garten
Vice President - Susan White
Treasurer - Eileen Schmidt
Secretary - Sharon Capansky
Publicity - Tim Wortman
Member at Large - Kay Steckman
(UPDATED 11-29-2015)
(UPDATED

05-18-2017)

(UPDATED 10-8-2011)
Find out what's going on in our NEW
(UPDATED April 6th, 2014)
<![if !vml]>

<![endif]>
Early Bird Bingo
6:30 p.m. to 7:30 p.m.
Every Thursday at The Heritage Center Community Room
Progressive Jackpots
for Thursday May 25th, 2017
Progressive Jackpots are $850 and $1000!
Regular Meetings held every 2nd Tuesday of the month
at The Heritage Center
in Medicine Lodge at 7:00 p.m.
NEXT REGULAR MEETING: June 13th, 2017
The Heritage Center Community Room is available for rent.
This Site was last modified on May 24, 2017
This organization has been visited
times since the original site was brought online in 2002